While Trolling at the local Anime shop I found some interesting early 90's anime on DVD. So I made some purchases, and one of them was Plastic Little, a movie I always wanted to see but could never find.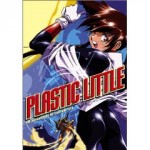 After acquiring it I returned to the dungeon and popped it into the DVD player, the old ADV intro and related run past the screen, then a boom and the menu comes up. Got a few choices to make, ok they are:
-Play movie
-Scene selection
-Language setting
-Extras
I jumped to the Extras and found some trailers, art from production and my favorite the Jiggle Counter. Enabled that fun little feature and headed back to main menu. I started the film, the English track was on before I realized that I forgot to switch it over, but I decided heck let it ride anyway. So I watched a good portion in English and about half way I swapped back to the Japanese sound track. The dub was good, but made no sense, the voice actors all voiced the characters like they were from mother Russia, and Sweden, and it was bad to say the least, but at least it was in Dolby 5.1, where the natural sound track was only 2.0 stereo.
As soon as the movie starts up you meet Tita the Perky crazy captain of a pack of Pet shop hunters on a space boat. Fan service ensues, followed shortly by the introduction of the story, some chase scenes, a fantastic bath scene and explosions. Tita gets beat down a few times, there is a cool break in and more shooting followed by a overly dramatic gravity weapon exploding some city, then some more shooting and the end shortly follows with a cool chase scene and some laughing. All in all the best part of this whole movie was the Tits and Ass, amazing fan service, realistic work. I just love Satoshi Urushihara art style enough to rescue this odd movie from being a sinker.
More here
Art: Amazing, high quality animation, the body's and fan service were top notch, the most amazing breasts I've ever seen in an anime! 10/10
Story: The plot was solid, but it was a 60 minute film so it was rushed big time and somewhat dry, Check your brain at the door for this one. 4/10
Sound: English dub was a joke, but if you hate reading it works well. The English track was re-mastered in Dolby 5.1 and they left the Japanese track in the past, GRRRR! If you go the Sub route you will be reading YELLOW SUBS, GRRR! 4/10
Extras: Fun giggles counter, a little hard to keep up with, but with a few beers its still fun. The art and trailers are a nice touch, though limited. 6/10
Overall I would say it was worth buying, a fun hour and some amazing art, so if I had to score it I would say 6.5 out of 10 would be fair, though I'm glad I only paid $10 bucks for it.