Magical Premium! H-Game Review
Ah every once in a while you buy that random game that comes from some random game company you've never heard of. Well this was one of those good investments, well depending on what your expecting for around $20 fun bucks "Your mileage may very" to be blunt the game play is well…. not so complex at all.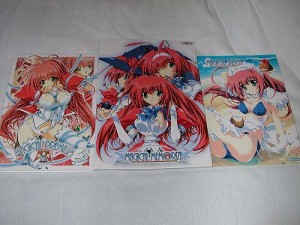 You "Blank her brains out" till you level up, then you take her to the movies and play online games, but really you just watch her do all the work/play, which can be a good 'wink wink' kind of thing, then you do more leveling in bed shortly afterwords.
You will be hitting the sheets with the main character for quite a long while, and there really is no dating aspect to this game, it gets sort of dry after a while because you start off hooked up lucky with her from the get go, so call it what it is 'ERO – Graphic – Novel – tastic!'
That said there are some other characters who show up but they don't play as large of a roll, but they are there for good measure and a decent mixture of comedy and H Content is to be had from all the characters.
This Game comes in a "Art book Style" Case with lots of color and flash, It really stands out among games, if you happen to see it and at a reasonable cost I recommend picking it up.
In short you get action without needing a walk through or strategy guide, and even if you don't understand MOON SPEAK you will be able to enjoy this game.
Cost: About $20 American Fun Bucks
Language: Moon Speak
Art – 8/10 – Good but repetitive
Music – 5/10 – Can't expect much here
Voice acting – 9/10 – Dead Sexy but gets old here and there
Game Play – 5/10 – Like I said not much to do be Screw Time Away
Overall Score – 7/10 – What can I say I like not beating around the bush sometime is great!
YATA!