Well eat your shoes and light your wallet on fire Nvidia delivers!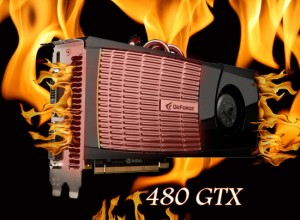 About 6-8 months late but heck for 10% more performance than the 5870  for a mere $100 more. But if your bleed green and have to own the best of the best this second the Nvidia 480 GTX is sure to please. Pre-order from Amazon or what ever service you choose, I have a feeling these cards are going to be rare at first. Oh yeah I should mention that the card runs as hot as the sun, is as  loud as a typhoon, and if your trying to go green this beast will drain the juice at record new pace for a single GPU.
Reviewers are recommending  your PSU should be 600 watt and or higher, but you should know what that means, your going to want at least 800 watts or higher to run the rest of your system. I could go on all day about this but there are plenty of good reviews around the net. Personally if your GPU is good right now stick with it until Nvidia shrinks their GPU and tweaks it more, I also would recommend looking at ATI if you seek cheaper high end performance options. The next question is what will ATI do? Might I add Nvidia, does this hot monster 400 series have more in it? And the Slo-bro question. where are your Intel, where is your bad ass graphics solution?
All questions aside I'm happy Nvidia has finally delivered something.
Check out this Review HERE