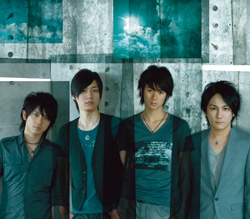 This week I wanted to focus on a band, a J-Rock band known simply as Naifu. The band was the evolution of the garage band ELF which started in 2001. The bands life was short lived but they gave us a few good hits and some of the bands famous singles have been used in few big title anime openings. The band formed up in and around 2005 where they published a few singles and grew from there. In 2007 they signed onto a major label Giza Studios. The band lost it's lead vocals and keyboard in 2008 after a band fight, the end result was a more focused group who in 2008 put out an album and got two tracks featured in two major anime shows. Golgo 13 the Story of the hit man Duke Togu features the hit "Take the Wave" by Naifu. And lets not forget Detective Conan Featuring one of the bands last song "Mysterious". After 2009 the band broke up and the members went their own ways. Several small bands were formed by former Naifu members and continue to play to this day.
Band Members
Naoki Ko-jin (Vo./Gt.)
Siyon Morishita (Gt./Vo.)
Fuma Murakami (Ba./Vo.)
Atsushi Yamaguchi (Dr./Vo.)
Makoto Taku Matsuo – Former band member
Enjoy A few singles from the Naifu!
Mysterious