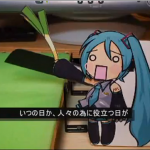 Cooking With Vocaloids? Yes Please! Stumbling around the internet I stumbled upon a youtube channel in which the cook who is also an inventor and artist. He creates all sorts of foods that resemble Vocaloids and various anime Characters. He also creates some really cool automated toys and some of them are very functional. His Leek slicing device is simply brilliant, perfect for those fine slices.
I love the passion that is found in vocaloid community and this guy has combined to great things, cooking and vocaloids. And just seeing this I knew immediately that I should share a few videos and some links with you. Here's his Youtube channel page HERE, he's moved various videos from Nico onto Youtube.
This puts the slap chop to shame! You know you want one!


Enjoy Sushi? Check out this roll.

The Coolest boxed lunch ever!

Cake time!