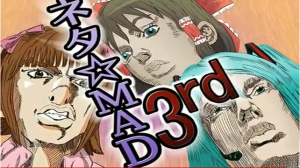 Okay This week I'm bringing you a boat load of great Miku Miku cup videos. The Miku Miku Cup is a yearly contest for MMD thats stands for Miku Miku Dance, producers from all around the world compete in it and it has been growing every year. Categories vary and subjects vary every year, but comedy is by far my favorite. This is but a tiny taste of what is out there, and just so your in the loop this is season 6 so their are 6 seasons worth of video out there, I've selected a few offerings from 3-6 focusing on mostly newer content.
All of the MMD Videos are created in Miku Miku Dance, a 3d digital rendering/animation studio created for vocaloids, but as you can clearly see has expanded into pop culture, memes, celebrity's, and anime and ect. The editing and final movies are done in other programs like adobe primer or Sony vegas. It is a lot of work to create these videos and trust me it's totally worth it.
I do recommend watching these videos from start to finish, some of the videos start off slow and pick up as they go. And make sure you check out all the videos, ya, make sure to explore the bottom as I think you might find it to be epic! And I tossed in some other funny non MMD videos down there as well. Enjoy
If you want to learn more about Miku Miku Cup check out this LINK HERE MMD CUP wiki
Alrighty lets hop to it!
Volare


OMG Volare in RL

OMG could not stop laughing watching this video!

Sauce EEE

Mini Miku group DDR

Ice Climbers

24 parody, no sound at the start don't worry

Armageddon parody?

A dream that comes true


Miku's laboratory

Life is Like a Boat -Iori and Freeza – This one is classic

Insane Train crossing! – Taken down by Sony – Thanks Sony 🙁


You did not see that coming!

Temptation of M – One of my favorites! – Video got killed by sony – check out this LINK for an english voice track version not containing the old music content.

Chocolate that vanishes!

150 yen for 2 pieces

Insane Ping Pong battle!

Moon Boots Rock!

Ok going off topic

Trains coming


I could go for some Strong Coffee about now…

You made it all the way to the last video this week! Congrats enjoy your gift!

Just Kidding Welcome to the Leek Parade! – A must watch!

Want more check this link here! http://youtu.be/rJ3H_uz5V1o