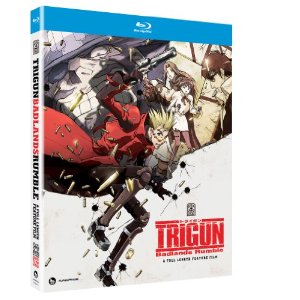 The Blu-Ray release that includes both the English Dub and the original Sub Has a Street Date of September 27. For the LOW LOW LOW PRICE of $18.99 + shipping if you don't have Prime you can Pre-order this fantastic movie.
The Listed extras are: "Staff and cast interviews, Cinema Sunshine Ikebukuro / Movie premiere digest ,Trigun Badlands: Post recording, Black Cat story, Black Cat Rare, Black Cat Lottery, Web promotion clip, Promotional video, Theatrical commercial, Theatrical trailer, Original commercials and general Trailers"
Head on over to this Link HERE and lock in your order today, trust me its good, and If you need something to watch in the meantime check out Spice and Wolf Season 2 blu-ray/dvd combo for about $40 bucks HERE. Spice and Wolf is a great series for those interested in economics, comedy and romance. A very slow show on the surface but It will suck you in and you will be wanting more.