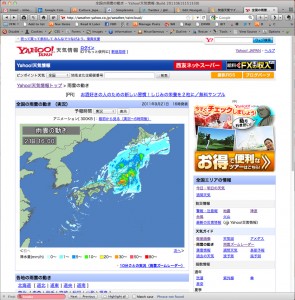 As reported by Danny Choo, and various news outlets, the typoon season in Japan has been rather harsh this year. Many people have been evactuated out of Nagoya, the estimated number was around a million. The reported death toll is at 4 with 3 more missing. The storm is set to pass over mainland Japan by 4pm tomarrow, heading north. Many flights and plans have been delayed till the storm is over.
The Smart folks over at the Fox Network are hyping up the FEAR mongers with the nuke site being over run by the storm, very out of control as usual. Anything to pump up the story I guess, thanks Fox for keeping it full of Sh$#. Fox needs to take a chill pill and get with the rest of the world.
The Twitterverse has been loud with people tweeting about the storm and what it is doing, but no one has voice any legitimate news about the nuke sites being in any kind of actual danger. The greatest danger this storm is from flooding and high wind tossing debris such as trees and signs. The last major Storm took more than 90 lives so the Japanese government is taking no chances with this storm. So far from what I've read the situation on the ground is very organized.