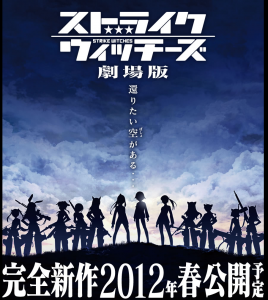 Magical pants-less flying girls with guns has a movie in the works, well the world has known that the movie was announced back in 2010. That said this news is not super fresh but a release date or at least a release window in 2012 has been announced, and if I had to guess either summer or spring release in Japan, which means fans in North America won't see it till end of 2012 or early 2013 if it gets licensed.
I don't have much to go on for sources as most blogs are sharing the same known info and the official source has not released much information about the film;  As I've not be able to find much more new info about the film yet. BUT as for the new content posted I've read Rumors that there will be some new characters and old characters not featured in the animated series and a plot that ties into the first and second season of Strike Witches though I've also seen rumors about a tie in with the light Novel. Only time will tell for sure. The poster posted on the official Website HERE shows the cast standing in shadow on a war torn hill. The short trailer posted below the poster is very generic.
Don't know about the Strike Witches well you can buy the first season on DVD now for around $25 bucks, sadly there is no North American Blu-ray release and the Second season is not yet published outside of Japan either. Learn more about the show and book series HERE. Learn Even more about the Witches HERE.