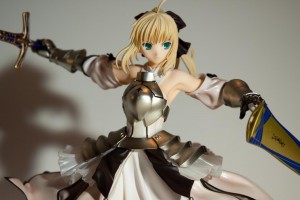 Manufacture: Good Smile Company
Scale: 1/7 Scale
Run: 1 of 1
Series: Fate / Unlimited Codes Game
Character: Saber
Variation: Lilly
Material: PVC
Vintage: Fall 2009
Cost: $150-300
I have been proudly displaying this figure since it's release back in 2009, it is one of my favorite figures of Saber. I've seen the other variants of Saber Lilly but I find myself drawn to this one over all the other Lilly figures on the market. Saber has subtle emotion, grace with an attitude and just the right pose.
Many other Lilly figures on the market just can't get the saber face and body correct, some of the other offerings are so ugly and low quality that they stand in hideous disgrace or rather lean because of the use of sub-par materials and paint. This Lilly is top shelf, and Good Smile did a fantastic job with her, in fact this Lilly is the second figure in a line of great Saber figures. I've reviewed the Dark Saber figure if your wondering what I'm talking about, check it out HERE. Gallery and more after the break
[jcarousel source="post" link="image" size="450×350″ limit="22″ items="1″ speed="400″ margin="10″]
On a side note: This photo shoot was an experiment with different lights and different set materials. Honestly not my best work but some of the shots turned out great and others not so much. I challenged myself to work with a cheap flash, and LED flashlights for lighting and less then $10 for set materials. So yes I was shooting on a limited budget for several reasons one being it helped me expand the creative side of my photography. I'll probably construct a light box for my next shoot but I'm working on a shoe string budget so under $50 for everything will be the budget goal. Notes over, on with the review!
The paint is fantastic for it's price, only a few minor flaws that are not observable unless your looking in very closely. The quality of paint is good, no flaking or tack, no issues yet. Why does that matter? Well cheaply painted figures get sticky, tacky, and the paint can fade or fall off in time, so far this saber as I said above has had no problems.
The attention to detail is very apparent from the eyes and hair all the down to the lacy garters and engravings on the weapons. I was impressed with the amount of love and care that went into this figure, even the shipping box was designed carefully to protect and display this Saber. I should note that this figure comes with 2 swords, extra hands, and base. The extra parts are great and the base is excellent, this figure does not lean or fall off its base easily which is a plus because I would cry if this figure fell out of it's display case.
If your in the market for a good Saber for your collection, you should grab one of these beauties up here soon before they are all gone. There was one and only one run, so what's on the market now is all there is left. The cheapest I've found as of  2-20-2012 is around $250 bucks which is up from it's launch street price of $150. Even at that high price point it's worth it, you will be hard pressed to find a better Lilly short of a custom painted kit which can easily set you back a cool $1500 bucks.
Pros:
– Beautiful figure, elegant pose
– Amazing detail for a good price
– Looks like Saber; so many other figures can't seem to get the Saber quite right
– Solid construction and paint
Cons:
– Cost can be high if your looking to buy one today
– Some minor paint flaws
– Hard to find