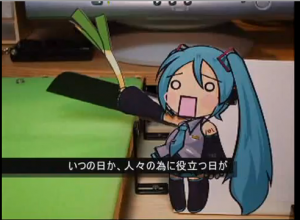 Last Year I did a post for MMD Cup 7 and people loved it, so I'm doing another one. This years MMD Cup was gigantic with over 1000 submission, narrowing to 500 and then broken into different categories. For complete list and for the Winners check HERE keep in mind all the videos link there are on nico nico JP and are not hosted on the american nico nico website. I've decided to keep it simple and link cross-posts from youtube.
Most of the winners are in this list of mine and a few have not been cross posted yet, but you can do more digging on any of these channels listed below or see link above. I've just touched the tip of the iceberg that is MMD Cup 8. Have a Happy Saint Patrick's Day, Miku's got your green covered.
The video content is all mixed up so in this list you will find: Comedy, drama, music videos, hybrid, action, X, and well lots of Japan. Only 1 video is NSFW and is labeled.
Some great Youtube Channels for MMD
Nicozero

Google can suck it! Tell your world Miku is here to stay!

Melody Line

Here it goes again

Rock on

More Rock

The flash

Excelent bad apple cover

Indecent requests – NSFW

My HEro

Panda heros

Downhill

Epic trailer – chained apocalypse

Some com drom

I thinked I lols

Big Band

Prison break

An epic battle

Scatman!

Miku mario

Impressive Touhou movie

Some Top gun action

MMD monster hunt

Chibi Ghoest Busters

Extreme action

Simply ….

hmm

to many leeks

This years amazing tower

air cover – Top shelf MMD

Where it began

Nedoroid kart

Punch and kick

24 keys

more more action

Street figheter

Watch only if your brain can handle way to much asdfasdfafsd

Freely Tomorrow

not doin it for ya huh

nicos take

Winners