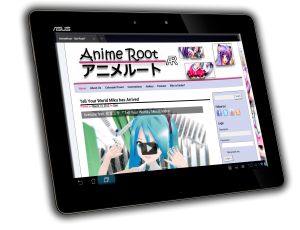 With technology progressing as fast as it has been mobile computing is becoming a thing of the "now" which is slowly but surely evolving into another stage known as mobile computing. The Transformer Prime is Asus's new hotness; a 10.1-inch touchscreen tablet sporting a illuminated keyboard dock, Android 4 (Ice cream sandwich), 32gb (upgradable to 64gb) and nVidia's newest quad-core processor.
Spec listing for the technically inclined:
Android 4 Ice Cream Sandwich (free OTA update)
Dimensions: 10.4 x 0.3 x 7.1 inches ; 1.3 pounds
NVIDIA Tegra 3 Mobile Processor (Quad core + 1*)
10.1-inch WXGA Super IPS+ Capacitive Multi Touch Display
32GB eMMC Flash; 1GB DDR2 Memory
Eee Pad Transformer Docking Keyboard Not Included
1x USB 2.0
SD Card port
Touchpad
Charging port
What is the big deal?
This tablet rocks a quad core processor with each core clocked at 1.3Ghz and complete with one extra 'companion' processor to handle most tasks. This sweet mixup is the secret to the devices' amazing battery life – the companion processor is used for the majority of the processing, firing the other four when more power is needed. This means it manages most background tasks while using the other four to cores to ensure speedy and smooth delivery of content.
[media url="http://www.youtube.com/watch?v=R1qKdBX4-jc"]
Likes
                There is a lot to like about this tablet, its fast and actually is pretty accurate to the hype that it receives. The battery life is also pretty spot on, while I haven't actually used it ongoing for 18 hours… the battery can hold up 2-3 days of email and semi-heavy use. The keyboard dock also brings a unique feature with its full size, touch pad and internal battery which superchargers the already amazing battery life.
The display and colors on it are amazing, games and 720p videos look amazing and can easily be teamed up with Crunchyroll's Android App. There are also a multitude of applications such as Amazon kindle that allow it match and beat any of its competitors in terms of E-reader capabilities.
Dislikes
While I may think this is the best tablet available at this point in time, there -are- some things not so great about it. The touchpad on the dock is awkwardly placed with little to no accidental touch detection. Bumping your thumb against it while typing is a frequent occurrence – it's possible to disable the touchpad temporary but this also grows annoying overtime.
It could do with an extra speaker, on the current model there is a single 5-6in speaker that runs along right side. It doesn't sound bad and has decent power and volume but it could benefit from having a split source.
Some users are reporting hardware defects with the strength of the wi-fi and Bluetooth radios and while I would normally see this as a major issue, on my device the defect is minor and mostly unnoticeable. Some owners have also reported screen bleeding but again this isn't much of a issue for me. Light is gonna' light – Just sayin'
Would I buy it again?
            To me this tablet does everything advertised and more, Asus provided developers with a official method of S-OFF allowing the device to be easily rooted, it has USB and a keyboard, expandable memory via SD and SDMicro, and overall is worth its weight in price to me. When I began my tablet search I was mostly focused on the Kindle Fire and the Nook Tablet but after seeing the lack of expandable memory on the Fire and the lack of RAM on the Nook… I made my way here. I would recommend this tablet if you are looking for a powerful, light, portable machine with the ability to read books, game, watch videos or do just about whatever you throw at it.