It have been coming to Wasabi-con here in Denver for a few years now. Every year has its share of ups and downs but at the end of the weekend, I always have a good time. I was going to write up a more detailed weekend report but the plague has caught up with me. So I thought I might summarize some of the the highlights.
Full Gallery: HERE
Interview: David Vincent
Interview: Jamie Mcgonnigal
Read on for convention summery.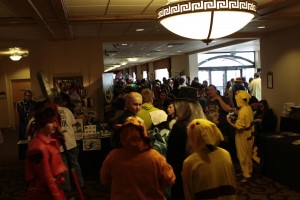 Registration was a nightmare, though I really liked the badges this year. If attendance numbers are this big next year I would suggest more computers and printers or a different system. With tweaks and trial and error I think this will get better.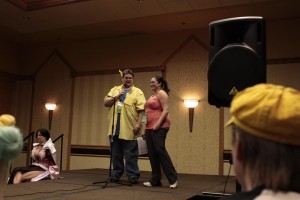 This is tied into opening ceremony which was pretty empty due to almost every buddy still in line for a badge. If this event was just an hour or later I think it would have seated more people. Regardless it was a blast, Warky and almost all the guests made an appearance, the song and dance and the rules and regs. Fun fairly informal and informative.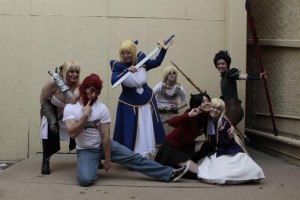 Friday was a busy day for photo shoots, had an interview and a few quick panels, and some late night fun! Honestly would not change a thing, though I personally did not attend to many panels, the other folks of animeroot and friends of the root filled me in on some late night fun.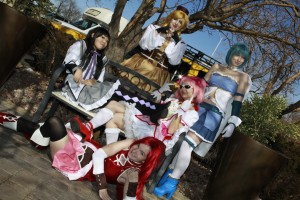 Saturday, well photo shoots, panels, fun time room, gaming, interview, concert, rave, and late night panel. Honesty  Saturday ran mostly smooth and on time, registration lines moved quicker than Friday. So much to do so little time. My brain hurts so bad, but you can trust me Saturday Wasabi was a blast! If you could fix two things they would be: allow more time for concert setup and a bigger room for the rave.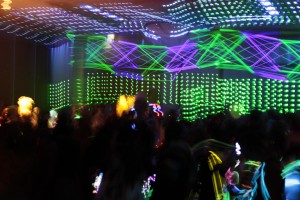 Sunday, kinda slipped in on us sometime between panels. Had to sleep, pack, checkout and plan for the day. Sunday is always the most rushed day for me, and the rest of the staff. After packing up we attended Scumbag trivia and won it, coining the term "Scumbag press wins scumbag trivia!" Honestly fun times. More photo shoots, voice actor panels, and closing it all up. It was a fun year overall, I hope next year to see even more improvements.
A Verdict?
Well, people have been asking me which convention is better NDK or Wasabi? I have to say they are so different it's hard for me choose. As Anime conventions go NDK is more traditional and is bigger. I love NDK and always will. If we want to talk scale Anime Expo is my favorite big convention, it's a mega-con; where NDK is my favorite home town convention and Wasabi is my favorite grassroots convention. Wasabi has it's own vibe, It's small, spunky, and a bit more laid back. Wasabi is different, and thats why I like it.  I honestly like having 2 anime conventions a year here in Colorado and wonder why these two conventions seem to be locked into a death match with each other. It is really beyond me honestly and I can't really weigh in on the subject.
So There you have it, the quick and dirty on what we did at wasabi. As you probably saw there are links at the top to the gallery, and the interviews. I really need to rest up, so good night and follow us on Facebook or here on the homepage.