So I spent the last few days drilling my way through Mass Effect 2 and its new content.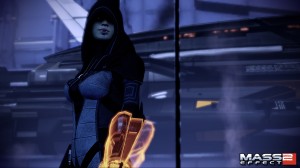 There were several free downloads and 2 new pay content downloads. One being new costumes for a few of the male crew and the other being Kasumi a new female crew member to join your team.
With the download comes a few new missions, new casual formal wear, new weapons, and new options for combat and more Shepard drinking. For about 5 bucks its a great value and overall I'm happy with the new content. The only thing I'm going to mention is that Kasumi does not look, sound or feel Japanese, and her Japanese is bad, laughable at times. But again this is me nit picking it.  I don't want to go into detail about it, as it is enjoyable content that you must play if you love mass effect. Check out Bioware for more info – LINK HERE-
Kasumi' s  Stolen Memory

Cerberus has procured the service of Kasumi Goto, the galaxy's most enigmatic master thief. In return for her help, Kasumi has asked Shepard's help on a dangerous heist to infiltrate the vault of a deadly master criminal named Donovan Hock.

Kasumi – Stolen Memory includes a new squad member, mission, weapon, research upgrade, casual outfit, and achievement.