Manufacturer: Alter
Scale: 1/7th
Run: 2nd production run
Cost: $200-250
Character: Fate -T – Harlaown – Shin sonic Form
Show: Nanoha Strikers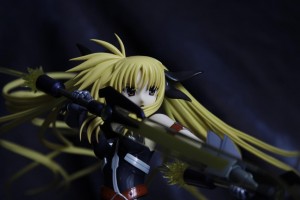 Sculped by: Tsumezuka Hiroyuki
This figure is huge for a 1/7th scale. You can use her swords to slice pizza and serve it. She is so big because of her hair and weapons that she won't fit in my display cases. If you are thinking about buying this figure make sure you have a nice and wide place to display her in both of her forms.
As far as quality goes I would say that this figure is worth the price, it is well constructed, well thought out, and painted nicely. I wish the weapons had a bit more color but it's hard to achieve the effect without some transparency. A solid base, yet another great feature, the use of metal and high quality plastics for bases and supports.
Again overall this figure is a must buy for fans of the Nanoha series.