Sorry for the delay on this write up, I've been rather ill and very busy to boot. This writeup was intended to be out the week after the convention, but was delayed. I've been working on it since the second day after the convention, this post is huge. That said Day 2, Saturday September 10th, the main event. This day was huge for us, we had interviews and meetings and several major events to attend. I had to mention that this year NDK celebrates its 15th anniversary, and it was a grand year indeed. There were so many pictures, so many stories and lots of good times to go round. The AnimeRoot staff splits up and covers several eventsinterviewsect on this day simply because there is so much going on. but before I talk about the events I just have to answer the question.
Why I Love NDK
NDK the biggest small convention you will ever attend. I love NDK so much for it's size and for so many more reasons. Reasons such as the personal connections that are formed between the guests and the attendees, the small panels, and interactive experience that is just not found at larger conventions.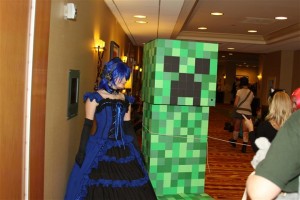 I've been around the states visiting conventions and I can easily say that no other conventions cares so much about the guests, the attendees, and the staff. NDK treats everyone so good, trust me you won't find that at Anime Expo where your a number standing in 4 hour long lines. That said there are many other small conventions out there, but none of them are nearly as organized or have near the guest lineup of NDK. None of the other conventions I've attended have such a personal interaction with the guests and panelists. When I compare NDK  to Anime Expo or Otakon both mega ultra week long super conventions, NDK is out gunned in several categories, but NDK makes up for it in many important ways. Water, Love and Attitude! That is why I love NDK.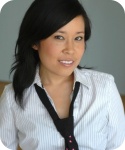 After the early Press meeting we kicked off the day with an Interview with miss  Stephanie Shea. A voice actor, and motion capture actor who started out with a college degree in business. Stephanie talks about her career from all the angles, and has many projects under her belt. We have full interview in the write up phase and will have it posted soon.
She's most well known for voicing Hinata in "Naruto," Orhime in "Bleach," Mikuru in "Melancholy of Haruhi Suzumiya" and Eureka in "Eureka 7." She is currently voicing Yui in "K-on!" and Audrey in "Mobile Suit Gundam: Unicorn."
Here are some featured Cosplayers From the halls on Saturday, we did not shoot as many hallway shots this year due to scheduling but we did cover the C&C very extensively. I shot as many as I could, and I must say the cosplay was out in force this year. I should also mention that lines were huge on Saturday, which brings me to the next major event of the day for us.
The AMV contest this year was interesting, the selections were all good ones, and in some categories the vote was a very tough and close decision. The quality of the entries overall were top shelf, the editing seems to get better and tighter every year and the stakes raised. You can check out the winning videos HERE
The Balcony decoration contest winner was announced at the C&C the winner was "Death City" entry number 9. This balcony was over the top, lighted and highly detailed. This years contest was better than last years, and I foresee it stepping up next year. AnimeRoot had a small banner on the top floor, next year we are planing something much bigger.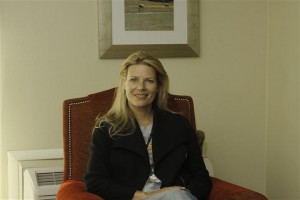 Our next Major Interview was with Mary Elizabeth McGlynn. I must say it was an honor to sit down and chat with Mary and I can tell you first hand she is a hard working, talented and brilliant voice actor and director. To be honest she has done it all from directing to producing, to voicing game characters and anime alike. Her most well known role is the Major from Ghost in the Shell TV series, and has directed voice talent for titles such as Cowboy Bebop and Afro Samurai. We will be publishing a complete interview soon, so check back soon.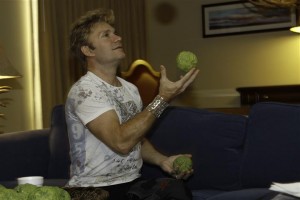 Yet another great interview following the last Interview with Vic Mignoga.Vic is a ball of energy and an industry icon. He draws his motivation and drive from his fans and man they sure have a LOT of energy to share. If your ever trampled by a herd of fan girls it is a high probability that they are Vic Mignoga fan girls heading to a panel. Our rooms were on the same floor shared with Vic's autograph sessions this year. It was loud, hot and the line wrapped the entire floor and then some. I was impressed when Vic stayed and extra hour and a half to sign everyone's stuff. To boot he did this on two consecutive days. "I will sign everything short of a sandwich, and I might sign that if it's all you have!" – Vic Mignoga. All that aside Vic is an actor first and voice actor second, his story is similar to Chris Patton's in which they both started at ADV and went on to have huge careers and land major leads. Such as Edward from Full Metal Alchemist and Dark in DN Angel. We have a complete writeup in the works and will be released in due time. But again I must say  he really is dedicated and I really respect him for his tenacity and love for his fans.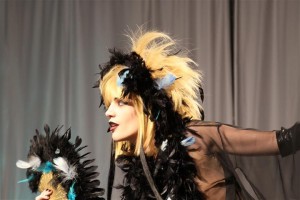 Costume and Cosplay contest
This years C&C was impressive to say the least. So many good costumes, with so much time and effort put into the costumes the bar has once again been raised. From basic costumes all the way up to full blown suits and highly detailed stitching, everyone who wanted to strut the stage with their costume had their shot. I have complied a list in the form of a table, that includes a picture link to the official NDK photographers page.
WINNERS LIST with photo links
| | | |
| --- | --- | --- |
| Video Game Award: | #49 Catherine "Rek" S. as Groudon from Pokemon (Created by Michelle "Riley" C.) | Link |
| George Robbert's Traditional Award: | #35 Kim T. as Date Masamune from Sengoku Basara and Ashley G. as Yukimura Sanada from Sengoku Basara | Link |
| Old School Award: | #50 Frederick M. as Captain Harlock from Captain Harlock | Link |
| Guest Judge Ms. Chika Takeo: | #32 Eric M. as Ducktape Gundam from Mobil Suit Gundam 0079 | Link |
| Guest Judge Director Yamamoto: | #53 Kawaii Cosplay performing 'Panic at NDK' | Link |
| Craftsmanship Judge Inoli: | #44 John O. as Deidre from Naruto | Link |
| Craftsmanship Judge Christina: | #29 Debra D. as Nadeshiko from Tsubasa Resevoir Chronicles, Timmy D. as Yukito from Tsubasa Resevoir Chronicles, Dillion D. as Toya from Tsubasa Resevoir Chronicles, Timothy D. as Fujitaka from Tsubasa Resevoir Chronicles and Julie L. as Sakura from Tsubasa Resevoir Chronicles | Link |
| Craftsmanship Judge Storm: | #12 Barbara D. as Vaporeon from Pokemon | Link |
| Cosplay Area Head Award: | #18 Zach M. as Kamina Prinny from Disgaea/Gurren Lagen | Link |
| Director Award: | #25 Catharine B. as Mephisto Eliza from Shaman King | Link |
| Audience Favorite: | #49 Catherine "Rek" S. as Groudon from Pokemon (Created by Michelle "Riley" C.) | Link |
| 1st Place Beginner Presentation: | #15 Ma Teresa G. as Gakupo from Vocaloid | Link |
| 1st Place Beginner Craftsmanship: | #20 Alison M. as Houki Shinonono from Infinite Stratos | Link |
| 1st Place Beginner: | #11 Beth S. as Feitan from HunterxHunter | Link |
| 1st Place Intermediate Presentation: | #28 Dominica W. as Maester Seymour Guado from Final Fantasy X and Miyoshi K. as Summoner Yuna from Final Fantasy X | Link |
| 1st Place Intermediate Craftsmanship: | #40 Drew M. as Megurine Luka from Vocaloid 2 | Link |
| 1st Place Intermediate: | #36 Heather D. as Sister Noelle Bor from Trinity Blood | Link |
| 1st Place Cosplay Presentation: | #53 Kawaii Cosplay performing 'Panic at NDK' | Link |
| 1st Place Cosplay Craftsmanship: | #55 Team Sonic Boom performing 'The Trouble with Bounty Hunting' | Link |
| 1st Place Cosplay: |  #55 Team Sonic Boom performing 'The Trouble with Bounty Hunting' | Link |
| 1st Place Master Presentation: | #50 Frederick M. as Captain Harlock from Captain Harlock | Link |
| 1st Place Master Craftsmanship: | #45 Stephanie H. as Mellia from Knights in the Nightmare (Chris M. is co-creator) | Link |
| 1st Place Master: | #49 Catherine "Rek" S. as Groudon from Pokemon (Created by Michelle "Riley" C.) | Link |
| Best in Show: | #54 Green Jello Cosplay performing | Link |
Late Night Fun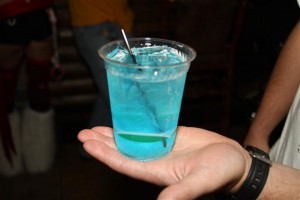 Did anyone check out the hotel food and drink offerings? Well we did and even though the food was not the best, and drinks a bit high in price we had a good time. The drink menu was entertaining, the mixed drinks menu in particular was built and named for the convention were really . Our overall favorite drink was the Spirit Bomb! Named after the powerful energy attack from Dragon Ball Z, this drink matches the color of the spirit bomb attack and combines several very strong liquors for a tasty earth saving punch!

Dancing the Night Away!
I'm a fan of raves, I love electronica, and I love dancing. Late night dancing is always a blast, and I put down my camera for a short while and danced. Then picked my camera up again and shot some group rave shots. Put it down again and dance some more! I really digged the beats and the dj's. I am happy to report that this rave contained a minimum amount of anime theme music and really focused on real dance and club mixes. Props!
Day 3 has already started, but I'll go ahead and save that for the next post. Overall this day was epic, busy and fun. I only wish I had less interviews on this day and more on the last day or first day as the interviews cost me the opportunity to shoot group cosplay meetups, well maybe next year we will bring more bodies to cover more convention while we do panels and interviews.